Northern New Mexico is prone to wildfires.  The Las Conchas fire in 2011 burned more than 150,000 acres in the Santa Fe National Forest threatening the town of Los Alamos. Two years later, the Tres Lagunas fire north of Pecos scorched over 10,000 acres before it was finally extinguished.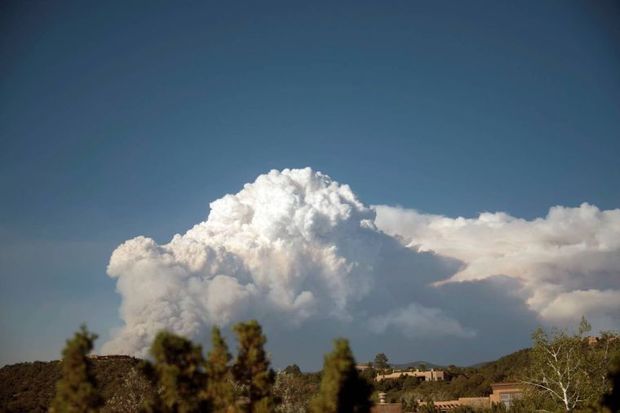 Every resident of Santa Fe County should do what they can to minimize the risk to life and property posed by wildfire.   Learn about creating defensible space around your home by minimizing the presence of flammable materials.
Easy steps can lower the risk to your home. Keep pine needles and burnable debris out of the gutters and off patios.  Outdoor furniture (including cushions) ignites easily; move it inside or away from your structure if fire is active nearby.  If your home is adobe, make sure the stucco reaches beneath the soil line; embers can creep inside the wall otherwise.  If you own a well, set up sprinklers on the roof and/or pointed toward your walls to increase the moisture content of your home and its immediate surroundings.
How can you reduce your risk?  Hondo Volunteer Fire & Rescue is now offering free, on site home inspections to assess your property and recommend steps to lessen hazards.  Most visits will take less than an hour and focus on creating a defensible perimeter around your residence.  Our suggestions are only advisory; final decisions regarding any changes are yours alone.  Please contact our department to arrange a visit from a trained and certified Wildland Fire Assessment Specialist.  As time allows, we will respond at the earliest mutually convenient opportunity.
Many of the homes in our Hondo district are in remote areas hard to access with firefighting equipment.  Prepare a personal kit to make a quick exit from your residence in the event you must evacuate.  When evacuating, close all windows and doors; lower blinds and shades to reduce thermal impact indoors; leave a light on to help firefighters locate your residence when smoke reduces visibility.   Determine if there alternative exits from your neighborhood in the event that the road you ordinarily use is impassable.
In the event of a fire emergency, check local television and radio for updates.   Consult the footer at the bottom of this website for unfolding developments.  Follow the instructions of emergency responders.  Don't be caught unaware.
Here is a link to a very informative article from the New York Times about one Oregon community that has virtually eliminated its fire risk.  Read to see how they've done it!
Visit these additional websites to stay prepared.
Santa Fe County: Protecting Your Home From Fire
National Fire Protection Association Wildfire Safety Tips.
Firewise Wildfire Preparedness